10 Ways How To Get High Amount of Social Media Traffic
Social media has become a huge and significant source of traffic. Here are some things to follow and get lot of social media traffic fast!
Please Read the full post for some Unethical Methods!
Make a Page for Every Single Topic
Make a page on all social networks, I am using the word page here, it might be called something else in a different social network.
I know , its not a secret, but many people are not doing it. Do not forget to add a link to your website/blog, otherwise its just waste of time. Also it is essential that you do not overdo it, these links are not backlinks, you want traffic not links.
Add Share Buttons
Add Like Button, Tweet and G+ on all your posts, add share to social media buttons and link to your page on social media. Sharing is the key to social media traffic.
Don't Just Tweet or Like, Build a following
For new users, I have seen some people randomly posting on facebook and adding tweets for their posts, without having a single follower. Add some friends and followers, otherwise those tweets and posts are useless. You can also use autoshare scripts to automatically post to pages and profiles.
Add to StumbleUpon
Recently I started a new blog, and saw the weird power of StumbleUpon. I did not share my blog and didn't link it anywhere but StumbleUpon, the blog wasn't even indexed on google, but I got 500 views, the next day 10000 and the next day 20000, it went to 60000 views in 4 days, it was amazing. But after that traffic was gone. The traffic keeps on coming back, every single day I receive 200+ visitors from SU.
Its best for new blogs. Although the bounce rate is quite high, it is useful in getting a lot of impressions for free, and if the content is good, visitors keep coming back for more. My advice, start getting traffic through SU.
Answer on Quora, Yahoo
Answer to questions on quora, this works particularly well when a question matches one of your blog posts. For a new blog, if you see a question too common on quora, make a blog post about it and post your link to your quora answer.
There are other QNA social networks too, such as Yahoo Answers, I have seen more traffic from yahoo than quora for some questions. So submit your sites to QNA networks.
Blogger and Tumblr
Starting a parallel blogger and tumblr and posting links to them is a good idea, but but do not make the exact same blog on blogger and tumblr, and hope they get visits to your original blog. This might result in duplicate content detection by google and your rank will go down significantly.
Add Comments to FB
Add comments to pages having similar content/category of your website or blog, add a link to your FB page, this will help you get more likes and followers on your page, hence eventually more traffic. You might also try adding your blog link to facebook comment, but only a few people will click the link that will redirect them away from FB.
Use Reddit for Unique Niches
Reddit is the most powerful social network when it comes to content, reddit has much more unique content and links than all social networks, reddit communities are focused on many niches. You can find a few communities with your niche and add your link.
Build your link karma, and sometimes reddit traffic will go crazy high. Find a community with more people, and the community specific to your blog or even just a page of your blog. You can add all your post links to different communities, this will help you add content to more specific niche. Post in your specific niche and build real relations with people, and gain link karma.
WordPress Users can use Autoshare Scripts
Using autoshare scripts is a good option, a plugin like NextScripts, is best option if you are too lazy or you have too many posts, this plugin shares each of your post automatically to configured social networks. The best part is, there are some social networks, you never think of sharing to, you can configure them once, and the plugin does rest of your work.
Unethical Methods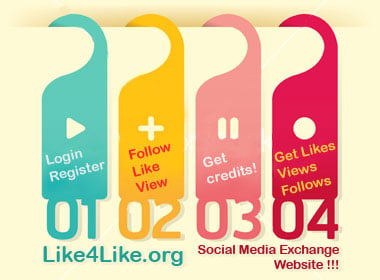 Note: The below methods are not encouraged by us and they might lead to your account getting banned on the network if used excessively. We only recommend them to get initial traffic and stop using them or slowing them down after you get enough organic traffic.
Using Like Exchange Websites such as like4like to build stronger social following.
You can purchase likes and shares, in much cheaper rates than advertising. FB ads cost you about 0.1$ a page like, these cost about 0.005$ a page like. Never buy traffic, never!
You can exchange likes and shares on FB pages, tweets & followers on twitter and similarly for all social networks. Just search for them on the social media you wish to promote on.
Buy high link karma reddit account or let someone else with higher link karma post for you on fiverr.