Should you buy Traffic from Fiverr or other Cheap Sources of Traffic?
You can get Traffic from Fiverr or other cheap sources of traffic on internet easily. How Cheap? Its 50,000+ Visitors over 10-30 days in 5$ on Fiverr. Clicxa, Social Exchanges, Click Bots might offer even lower rates sometimes. It
seems too good to be true, so is it worth buying? The short answer is for most website, buying traffic from fiverr or other cheap sources of traffic is extremely harmful for your website and search rankings, and your earnings from advertising. If you like to know why, please read below, if not, you should try it for yourself, it might work for you in a very specific situation.
How much traffic do you get?
Fiverr traffic might be lower than advertised, in some situations its 40%, even if the buyer had all positive ratings. On click exchanges or using bots give you as much traffic as promised, but its much worse than fiverr traffic, as fiverr users also send a very few real people to make the traffic seem real that these bots or exchanges do not. You wanna try it! You can get free trial bonus in most exchanges, and a fiverr gig costs only 5$. I will recommend not to do it on a website with Adsense or Media.net.
Quality of the traffic
Extremely poor. What exactly will you be promised might vary slightly, but this is the gist:
I will send targeted traffic to your website, 100% adsense safe, 80% US, Europe and 1500+ Visitors daily spread over 10-15 days. You can lower your bounce rate with high quality traffic. We do not guarantee earnings by ads or user engagement, it depends on the quality of your website, these are 100% human users and we can't control them. If you are not satisfied we have a 100% refund policy.
The problem is that the traffic is delivered to you and it seems to be 100% real. But its not. Many of them use a great percentage of bots, some of the traffic do come from humans, but they are paid to open and close your website, they don't have any intention to view your content, they are no better than bots.
Why does it feel real at first?
What were you promised? And why do you feel that the goals were met?
✓ US & Europe traffic, thats 50-80% of your traffic from bots, 20-30% comes from real visitors in countries that pay users as low as 0.01 $ per click, and view your site for 5 seconds.
✓ 100% Adsense safe, its undetectable by you but a lie, adsense safe traffic is one without bots, and adsense might not detect unusual traffic for 7-15 days, but the low CTR will definitely effect your CPM. Even if it does detect the unusual inorganic traffic, it will not ban you instantly, adsense may take time to analyse the situation and index your website, analyse your traffic and then it will ban you, so it will take time. You won't realize that the traffic you purchased a month ago resulted in the ban.
✓ You will get a high bounce rate, but that will be overshadowed by your incredible amount of traffic. Why isn't it 100% bounce rate? Because, bots are build to navigate your pages, because out of 20%-40% real visitors some might be interested in your content and because some sellers might send some real people to make it seem genuine.
Should you try it?
If you have a blog that is not as important to you then you should definitely try it. If you want to try it on your blog where Adsense account exists, then I don't recommend it. You can try a small quantity of traffic first to notice the bounce rate, to notice user engagement and conversions.
Why not to go for it?
The reasons are listed here and if even one of them really concerns you, you should not even try to get a lot of traffic from any kind of fake sources
Your Advertiser like Adwords, Media.net or any other might ban your website completely.
Your search engine rankings might be hurt severely and google might penalize your website, if you use these methods consistently
You are hurting real people who are paying to get there ads on your website, as there will be virtually no conversions
Many bots build up spam links pointing to your website, which effects SEO
Your bounce rate will go up considerably, for a new website getting social media traffic the bounce rate is high, but google knows its from social media, here it knows its from a random IP address.
Your reputation, Moz Rank, trust score, PR (if it still exist) is lowered.
Where should you do it?
You can buy SEO links and some traffic to your article page in a high quality website. Like, making a post in Medium or Warrior Forums with your link on it and buying SEO links or traffic for that page, so that the page ranks on the first page of google, it will take that page 3 -4 days to rank on google, while your website will take at least 3-4 months, also your website will not rank in google because of fiverr, but these might.
If you are selling your website, and the sellers are interested in your Alexa rank. Alexa rank is actually improved by the fake traffic these methods provide.
If your advertiser gives you CPM and does not care about the quality of traffic. These are very hard to find, but there are some, and you can also find individual advertisers.
If your website is extremely new and not even indexed, you just want to see some traffic and you are desperate to get it, you should try it then, something is better than nothing, and you do not have any advertiser that you might scare away.
[poll id="2″]
When to use Fiverr or cheap sources of Traffic or Click Bait Ads
Social Exchanges can be used to get a few followers, fake followers and fake likes if there is nothing else you can do. After you get initial recognition, you should absolutely stop using them. Fiverr has great gigs that you may use, social media gigs, creative designing and other gigs in just 5$. The people at fiverr are social media experts and sometimes give you mind blowing deals, although too much of these gigs will be harmful.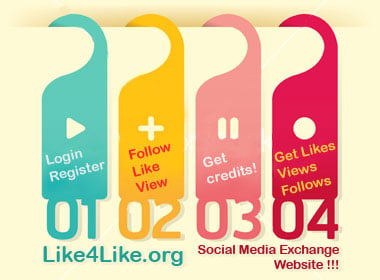 What you should get from fiverr? Anything not SEO or Traffic related. Most importantly, you can learn by purchasing a gig, how exactly these sellers are using social media, you can lean a lot of black hat tricks from getting a gig and analyzing what they are doing.